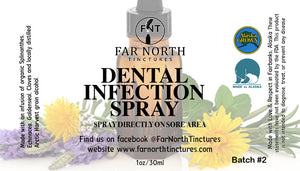 Dental Infection Spray
Directions
Use as needed. 
For best results spray directly on the sore area. This is safe for children and pregnant women. 
Consult a doctor before taking this, or stopping any medications.
About this product
Our Dental Infection Spray harnesses the best elements of nature to combat mouth and dental infections naturally.
All ingredients found in our Dental Infection Spray are organic. 
Please review the list below before taking, to ensure that you are not allergic to any of the ingredients. 
Ingredients
Splinanthes (Spilanthes acmella) 
Echinacea (Echinacea augustifolia) 
Goldenseal (Hydrastis canadensis) 
Cloves (Syzygium aromaticum) 
Arctic Harvest's

 

grain alcohol
*These statements have not been evaluated by the FDA. This product is not intended to diagnose, treat, or prevent any disease. Always check the ingredients with your doctor before use.