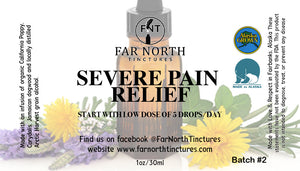 Severe Pain Relief
Directions
5-30 drops daily. Do not exceed 30 drops daily. May induce sleepiness.
For best results start with 10 drops at a time and increase dosage as needed/tolerated.This can tincture can be taken with food or before eating.  Not for children or pregnant women.
About this product
Our Severe Pain Relief Tincture was made for those who have paralyzing pain every moment of their day. They fight to function and pray for relief. We made this tincture for you because we have been there too! Be able to take a breath without whining and take comfort knowing that your relief is coming to you naturally. We know how important it is to you to be healthy both physically and mentally and healing the natural way is the best way to accomplish this goal.
All ingredients found in our Severe Pain Relief Tincture are organic. 
Please review the list below before taking, to ensure that you are not allergic to any of the ingredients. 
Ingredients
California Poppy (Eschscholzia californica) 
Corydalis (Corydalis yanhusuo) 
Jamaican Dogwood (Piscidia piscipula)
Arctic Harvest's

 

grain alcohol
*These statements have not been evaluated by the FDA. This product is not intended to diagnose, treat, or prevent any disease. Always check the ingredients with your doctor before use.