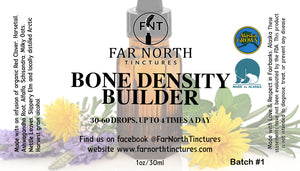 Bone Density Builder
Directions
30 drops 3 times a day
About this product
Our Bone Density Builder Tincture is packed with mother nature's best ingredients. It increases minerals and calcium to the body which may increase bone mineralization, and stimulate bone regrowth. Helps reform bone matrix, anti-inflammatory increases lubrication in joints.
All ingredients found in our Bone Density Builder Tincture are organic. 
Please review the list below before taking, to ensure that you are not allergic to any of the ingredients. 
Ingredients
Red Clover (Trifolium pretense)  
Horsetail (Equisetum arvense) 
Nettle Leaves (Urtica dioica) 
Alfalfa (Medicago sativa) 
Milky Oats (Avena sativa)
Slippery Elm (Ulmus rubra) 
Schisandra Berries (Schisandra chinensis) 
Ashwagandha Root (Withania somnifera) 
Arctic Harvest's

 

grain alcohol
 *These statements have not been evaluated by the FDA. This product is not intended to diagnose, treat, or prevent any disease. Always check the ingredients with your doctor before use.