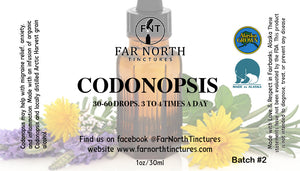 Codonopsis
Directions
30-60 Drops 3 to 4 times a day
Codonopsis is safe for children and pregnant women. For best results start with 10 drops at a time and increase dosage as needed/tolerated.
About this product
Codonopsis is an anti-anxiety and anti-inflammatory that is also used for migraine relief. It helps with stomach pain and lesser headaches. It calms the nerves, reducing stress and even helping to build up tolerance of stress. It also helps with asthma and in the treatment of cancer. 
All ingredients found in ourCodonopsis Tincture are organic. 
Please review the list below before taking, it to ensure that you are not allergic to any of the ingredients. 
Ingredients
Codonopsis (Codonopsis pilosula)

Arctic Harvest's

 

grain alcohol. 
*These statements have not been evaluated by the FDA. This product is not intended to diagnose, treat, or prevent any disease. Always check the ingredients with your doctor before use.