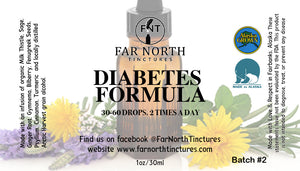 Diabetes Formula
Directions
30-60 Drops 2 times a day
*Use with your doctor's knowledge, especially if you are on insulin.*
About this product
Our Diabetes Formula Tincture is a game-changer if you desire to lower your A1C naturally and safely. This Tincture is also great for individuals that are in the Pre-diabetic category.  
All ingredients found in our Diabetes Formula Tincture are organic. 
Please review the list below before taking, to ensure that you are not allergic to any of the ingredients. 
Ingredients
Milk Thistle (Carduus marianus)
Sage (Salvia off.)
Ginger Root (Zingiber off.)
Gymnema (Gymnema sylvestre)
Bilberry (Vaccinium spp.) 
Fenugreek Seeds (Trigonella foenum-graecum)
Psyllium (Plantago affra)
Cinnamon (Cinnamomum verum)
Turmeric (Curcuma longa)
Arctic Harvest's

 

grain alcohol
*These statements have not been evaluated by the FDA. This product is not intended to diagnose, treat, or prevent any disease. Always check the ingredients with your doctor before use.