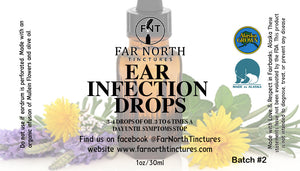 Ear Infection Drops
Directions
3-4 Drops of oil 3-6 times a day until symptoms stop
Should not be used if the eardrum is perforated.
About this product
Mullein flowers are infused with olive oil to create an antibacterial, pain-relieving, anti-inflammatory solution for infections of the ear. 
All ingredients found in our Ear Infection Drops are organic. 
Please review the list below before taking, to ensure that you are not allergic to any of the ingredients. 
Ingredients
Mullein Flowers (Verbascum thapsus) 
Organic Olive oil
*These statements have not been evaluated by the FDA. This product is not intended to diagnose, treat, or prevent any disease. Always check the ingredients with your doctor before use.