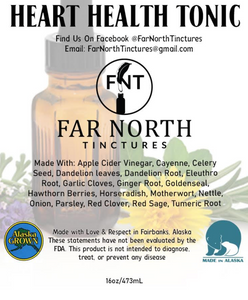 Heart Health Tonic
Directions
This tonic can be taken straight or mixed with water, juice, etc.

About this product

Our Heart Health Tonic is handcrafted from the best that nature has to offer to prompt a strong and healthy heart.
All ingredients found in our Heart Health Tonic are organic and infused with homemade Apple cider vinegar.
Please review the list below before taking, to ensure that you are not allergic to any of the ingredients.
Ingredients
Apple cider vinegar, Garlic - (Allium sativum)
Ginger Root - (Zingiber off)
Cayenne - (Capsicum minimum)
Nettle - (Urtica diocia)
Red Sage - (Salvia miltiorrhiza)
Hawthorn Berries - (Crataegus oxycanthoides)
Celery Seed - (Apium graveolens)
Turmeric -( Curcuma longa)
Horseradish - (Armoracia rusticana)
Onion - (Allium cepa)
Parsley - (Alchemilla arvensis)
Goldenseal - (Hydrastis canadensis)
Chaga - (Inonotus obliquus)
Motherwort - (Leonurus cardiac)
Dandelion leaves - (Taraxacum off.herba)
Red Clover - (Trifolium pretense)
*These statements have not been evaluated by the FDA. This product is not intended to diagnose, treat, or prevent any disease. Always check the ingredients with your doctor before use.