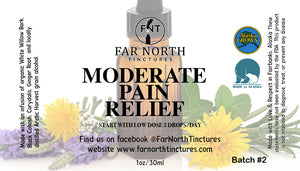 Moderate Pain Relief
Directions
Start with a low dose of 5 drops per day For best results start with 5 drops at a time and increase dosage as needed/tolerated. Do not exceed 30 drops 2x day. Not safe for Children and Pregnant Women.
About this product
Stop living with pain! We know that life is tough and that it takes a toll on our bodies. Waking up with aches and pains and living with that pain day in and day out isn't conducive to a healthy or even pleasant life. It is time for a change! Our Moderate Pain Relief Tincture can help melt away your pain without using harmful drugs.
All ingredients found in our Moderate Pain Relief Tincture are organic. 
Please review the list below before taking, to ensure that you are not allergic to any of the ingredients. 
Ingredients
White Willow Bark (Salix alba) 
Black Cohosh (Actaea racemosa, syn. Cimicifuga racemose) 
Corydalis (Corydalis yanhusuo) 
Ginger Root (Zingiber off.)
Arctic Harvest's

 

grain alcohol
*These statements have not been evaluated by the FDA. This product is not intended to diagnose, treat, or prevent any disease. Always check the ingredients with your doctor before use.