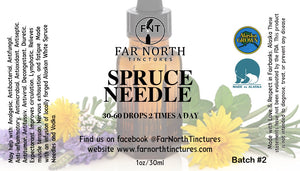 Spruce Needle Tincture
 Locally forged Alaskan White Spruce Needles distilled in vodka

Directions
30-60 Drops Twice a day
About this product
As with all our products the natural health benefits are numerous. See the list below for more information. 
All ingredients found in our Spruce Needle Tincture are organic. 
Please review the list below before taking, to ensure that you are not allergic to any of the ingredients. 
Analgesic 

Antibacterial 

Antifungal

Anti-inflammatory 

Antimicrobial

Antioxidant

Antiseptic

Antitumor

 

Antitussive 

Antiviral 

Decongestant 

Diuretic 

Expectorant 

Improves circulation 

Lymphatic 

Relieves muscle tension 

nervous exhaustion, and fatigue.

 
Ingredients
Alaskan White Spruce Needles 
vodka
*These statements have not been evaluated by the FDA. This product is not intended to diagnose, treat, or prevent any disease. Always check the ingredients with your doctor before use.