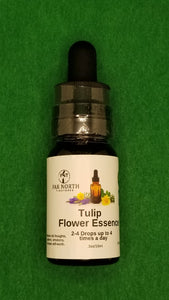 Tulip - (Tulipa Gesnerana) 
Symptoms:  Inability to cultivate quiet inner presence, lack of attunement or soul insight, unable to meditate or pray, stagnant thoughts, and prejudices. For those who are aloof and disinterested in their day-to-day lives and in those around them. They cannot wake up early because of dreaming.
Healing Qualities: - Tulip carries a vibrational frequency which provides a positive balancing force, helping you to release old thoughts, emotions and patterns. It helps you to see your own self value and self-worth from a more balanced perspective. Promotes progressiveness. Works by reducing dreaming, helps ground the person, and accept this physical life fully. Open your heart center to others, acceptance of duty joyfully and lightly, with a willingness to work and interact with others more easily. One can rise earlier and apply oneself more completely to one's work and daily tasks and be happier and friendlier.