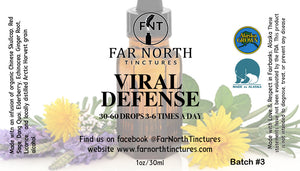 Viral Defense
Directions
30-60 Drops 3 to 6 times a day
For best results start with 30 drops at a time and increase dosage as needed/tolerated. 
Do not take if you are pregnant or think you could be pregnant.
About this product
Our Viral Defense Tincture is the perfect line of defense against seasonal ailments. Armor yourself with the best defense that nature has to offer. 
All ingredients found in our Viral Defense Tincture are organic. 
Please review the list below before taking, to ensure that you are not allergic to any of the ingredients. 
Ingredients
Chinese/Baikal Skullcap (Scutellaria baicalensis) 
Red Sage (Salvia miltiorrhiza) (Dan shen)
Dong Quai (Angelica sinensis)
Elderberry (Sambucus nigra) 
Echinacea (Echinacea angustifolia) 
Ginger Root (Zingiber officinale)
Licorice Root (Glycyrrhiza glabra)
Arctic Harvest's

 

grain alcohol
*These statements have not been evaluated by the FDA. This product is not intended to diagnose, treat, or prevent any disease. Always check the ingredients with your doctor before use.