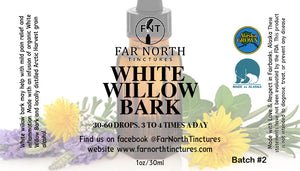 White Willow Bark
Directions
30-60 Drops 3 to 4 times a day 
Not recommended for children under 16.
About this product
Our White Willow Bark Tincture is very similar to aspirin but doesn't carry some of aspirin's side effects. It targets lower back pain, migraines, headaches, osteoarthritis, and osteoporosis.
All ingredients found in our White Willow Bark Tincture are organic.
Please review the list below before taking, to ensure that you are not allergic to any of the ingredients.
Ingredients
White Willow Bark (Salix alba) 
Arctic Harvest's

 

grain alcohol
*White Willow bark does contain salicylates so do not use it if you have an allergy to salicylates.*
*These statements have not been evaluated by the FDA. This product is not intended to diagnose, treat, or prevent any disease. Always check the ingredients with your doctor before use.